I have a date field with start time:

I then calculate with this formular
moment(@Termin).format('DD.MM.YYYY - HH:MM')

Result should not be: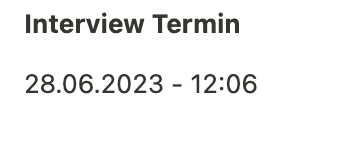 why is it 6 min? - the 6 min are not related to the creation time, as it was around min 15…
what are the timezones? - do I need to add timezones? It should just pick the shown date and convert the string.
I expected: "28.06.2023 - 14:00"