Hi @bruno.freitas,
thanks for your report. I cannot reproduce your issue, record creation seems to work fine.
Are you missing any required fields? Did you try refreshing your page?
Thank you & cheers
Tim
I have not run into this with Tape yet but sometimes I have issues because of browser add-ons/extensions/plugins that I use.
Can you try again in a different browser or incognito window?
Hey guys!
I believe I managed to find the error.
The Status field does not have the Always Hide option, as it is a mandatory field.
However, I have a hidden Status field. I think this must have happened when I converted the field's type.
The fix is ​​to delete the field and add another one. However, it may be a point of correction in the future: Do not allow the conversion of a single selection field (That is Hidden), to a Status field.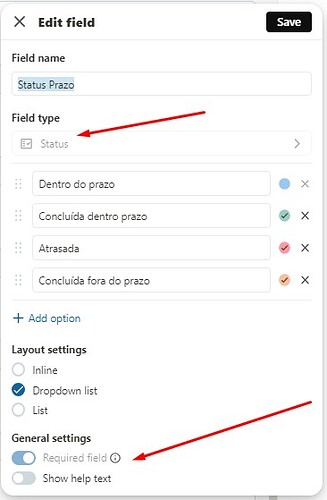 @bruno.freitas thanks for the clarification - and also the detailed analysis.

I also renamed the post to reflect those insights.
Totally understood, we will check this case and make sure your issue cannot occur anymore.
Will keep you posted here.
Cheers
Tim
EDIT: We just deployed a fix that should prevent this from happening in the future. Thanks again for reporting this!