Hi all,
One of our guest users is having a few issues with text spacing when accessing the Tapeapp website on their phone (Samsung S22), where larger-than-normal spaces appear between words.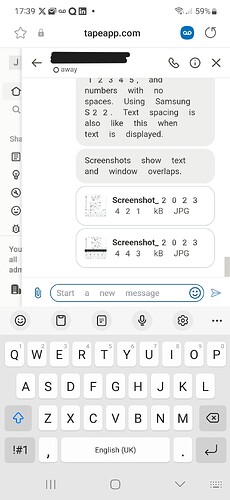 To get around this, they installed the Tapeapp phone app, but the app isn't accepting the same email address and password that they used to sign into the website. We suspect this text spacing issue may be the cause as we've got the user to double-check their email and password and even tried resetting the password, but they still are not able to login.
Other guest users are able to log in via the phone app and don't have any text spacing issues, so this issue seems isolated to this guest user and the text spacing issue.
Has anyone else come across a similar issue to this and has any tips for how to solve it?
Many thanks in advance.
Mark