Is there a way to edit comments in a record. I only have the option to delete. Thanks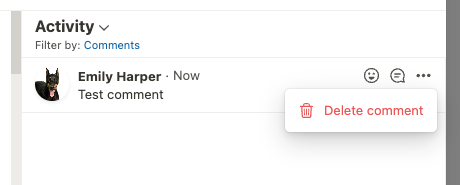 There is no way to edit a comment at this time.
You can check for a feature request and vote for it or create a new request for others to upvote
Hi @emily,
@1F2Ns is absolutely right, currently we have not rolled out comment editing yet. There have always been other features prioritized higher, however I can understand your need for it very well.
With one request and some upvotes, the priority can quickly rise and we'll roll out the feature, especially since it's probably not that time-consuming to develop.
Cheers
Leo
@Emily I created a feature request.
Please vote for it if this is a functionality you would like.